Donate $10 or more and receive an ad-free membership...
KFOR-TV Channel 4 LIVE from Moore, Oklahoma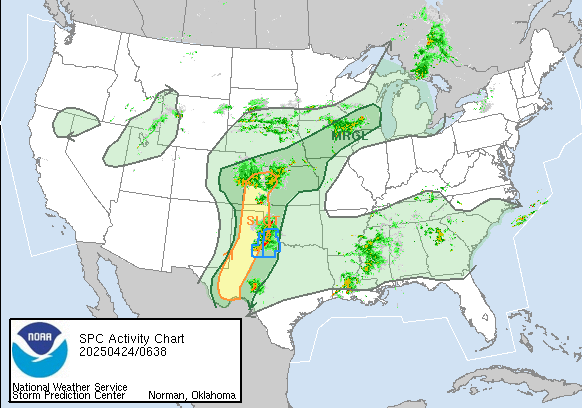 NHC Eastern Pacific Outlook

NHC Eastern Pacific Outlook

ZCZC MIATWOEP ALL

TTAA00 KNHC DDHHMM

TROPICAL WEATHER OUTLOOK

NWS NATIONAL HURRICANE CENTER MIAMI FL

500 AM PDT FRI MAY 24 2013

FOR THE EASTERN NORTH PACIFIC...EAST OF 140 DEGREES WEST LONGITUDE..

1. A SURFACE TROUGH OF LOW PRESSURE CONTINUES TO PRODUCE DISORGANIZED

SHOWERS AND THUNDERSTORMS ABOUT 550 MILES SOUTH-SOUTHWEST OF

ACAPULCO MEXICO. HOWEVER...SOME GRADUAL DEVELOPMENT IS STILL

POSSIBLE OVER THE NEXT FEW DAYS AS THE DISTURBANCE MOVES WESTWARD

AT ABOUT 10 MPH. THIS SYSTEM HAS A MEDIUM CHANCE...30 PERCENT...OF

BECOMING A TROPICAL CYCLONE DURING THE NEXT 48 HOURS.

ELSEWHERE...TROPICAL CYCLONE FORMATION IS NOT EXPECTED DURING THE

NEXT 48 HOURS.

$$

FORECASTER STEWART

NNNN

The Atlantic hurricane season runs from June 1st through November 30th.

The Atlantic hurricane season runs from June 1st through November 30th.
Click On A Model To Enlarge & Animate
Stormchaser81 is a very talented member of the Xtreme Weather Team whose areas of expertise include Doppler radar, satellite interpretation, severe weather warnings, and tropical weather forecasting.

Levi32
is a future star in the weather world that you may be familiar with from Weather Underground. His forecast and analysis are incredibly good.
Please
CONTACT US
if you'd like to be a featured blogger.
Weather Underground RSS Feed for JeffMasters's Blog
Tornadoes and Climate Change: Huge Stakes, Huge Unknowns

In 2011, a series of violent severe storms swept across the Plains and Southeast U.S., bringing an astonishing six billion-dollar disasters in a three-month period. The epic tornado onslaught killed 552 people, caused $25 billion in damage, and brought three of the five largest tornado outbreaks since record keeping began in 1950. In May 2011, the Joplin, Missouri tornado did $3 billion in damage--the most expensive tornado in world history--and...

Moore Tornado an EF-5; $2 Billion Damage Estimate: 3rd Costliest Tornado in History

The Moore, Oklahoma tornado of May 20, 2013 is now ranked an EF-5, making it one of only 59 U.S. tornadoes to achieve that distinction since record keeping began in 1950. The National Weather Service in Norman, Oklahoma announced Tuesday that their damage survey teams found an area of EF-5 damage near Briarwood Elementary School, with winds of 200 - 210 mph indicated. There were no EF-5 tornadoes observed in...