93L inland but not named; Jova aiming for Mexico; Caribbean is next for trouble
Please note that these tidbits do NOT reflect the official forecasts of the National Hurricane Center, and should not be taken as such. While tropical cyclones exist in the Atlantic, the official NHC forecasts will be posted in the lower part of this blog. Please refer to those when making decisions, and heed the advisories and evacuation statements of your local National Weather Service Office.
If you can, playing the video in HD makes it much easier to see things. The video will play in low quality by default. If HD quality isn't available, then it will be in a few minutes. Let me know if you have problems with the video, and please feel free to ask me any questions regarding what I talk about in these tidbits, or about the weather in general. You can post in either of my blogs or on Youtube. I will do my best to answer. Thanks for stopping by!
Find me on Youtube Find me on Facebook (also on Twitter)

Invest 93L is now inland over the northern Florida peninsula and will continue northwest into the panhandle today. One of the great mysteries in my young career will be why this system was not named Subtropical Storm Rina last night. The NHC's own words to describe 93L last night as Florida received hurricane-force wind gusts were "A NON-TROPICAL GALE CENTER." That's hard enough to justify over 29C water anyway, but AMSU showed a clear warm-core structure on all of its passes of 93L, and a tight 999mb low with a buoy off Cape Canaveral showing exponential drop in pressure and increase in winds as the center came near is a signature that is only seen in tropical cyclones. In my mind there is no way to excuse the goof-up that happened last night. Hopefully someone does something about it in the post-season. Florida knows what they got hit with last night.
Hurricane Jova is moving northeastward towards Mexico with a clearing eye and will likely be a major hurricane at landfall. Our thoughts and prayers go out to the people there. Jova moving eastward illustrates how the entire monsoon circulation is shifting eastward as the MJO aggressively progresses into phase 8. One of the strongest bursts into octant 1 that we have seen in quite a while will be occurring over the next 10 days, and the Caribbean may get a shot at development within the monsoon circulation cell next week. The ECMWF shows low pressure east of the Yucatan in 7 days, and the GFS has been inconsistent with the timing, but shows development eventually as well. While the trough will be vanishing from the eastern U.S. in a week's time, it will be short-lived, as by day 10 all of the ensembles have a big trough returning to the east, indicating that any trouble brewing in the Caribbean may have an opportunity to come northeastward towards Cuba, the Bahamas, or Florida.
We shall see what happens!
Tropical Atlantic Visible/IR2 Satellite (click image for loop):


Atlantic Tropical Surface Analysis:


200mb Vertical Velocity Potential (green areas represent upward motion associated with the MJO):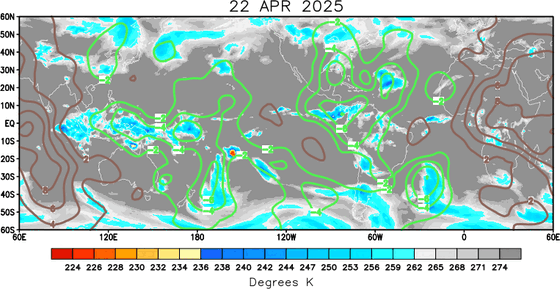 Trackback URL for this blog entry.