Invest 95L likely to develop into a tropical depression tonight or tomorrow morning
If you can, playing the video in HD makes it much easier to see things. The video will play in low quality by default. If HD quality isn't available, then it will be in a few minutes. Let me know if you have problems or questions about the video. Please feel free to ask me any questions regarding what I talk about in the video, or about the weather in general. You can post in either of my blogs or on Youtube. I will do my best to answer.

Find us on Youtube Find us on Facebook



Our area of disturbed weather in the southeast Bay of Campeche has been tagged invest 95L, and is slowly organizing this morning. The system remains broad, with a low-level circulation center that may not yet be closed, and convection is not taking a structured pattern yet. However, pressures at the buoy in the middle of the BOC are falling as winds increase, and 95L will likely continue to gradually strengthen today. Upper-level conditions remain marginal as an upper trough to the northwest is still impinging dry air and southwesterly wind shear upon 95L, but this upper trough will be moving out of the way during the next 24 hours, and 95L may find itself beneath very favorable upper-level conditions by tomorrow afternoon. A recon plane is scheduled to investigate 95L later this afternoon if it is not canceled by the NHC, so we will hopefully get a better look at this system.

Given the current rate of organization, I see no reason why this shouldn't be at least a tropical depression before landfall near Tampico, Mexico sometime Thursday morning. The BOC's coastline shape is notorious for helping infant systems wind up fast, so despite the broadness of this monsoonal depression, we may very well see Tropical Storm Arlene form out of this before landfall. Overall, heavy rainfall will still be the main issue for central America and Mexico, though Mexico will be mostly happy to see such rain.

I give 95L a high chance of becoming a tropical depression within the next 48 hours.

We shall see what happens!

Invest 95L Visible/IR2 Satellite (click image for loop):




Invest 95L Model Tracks:




Caribbean/East Pacific Visible/IR2 Satellite (click image for loop):




Central Atlantic Visible/IR2 Satellite (click image for loop):




Atlantic Tropical Surface Analysis:




200mb Vertical Velocity (green areas represent upward motion associated with the MJO):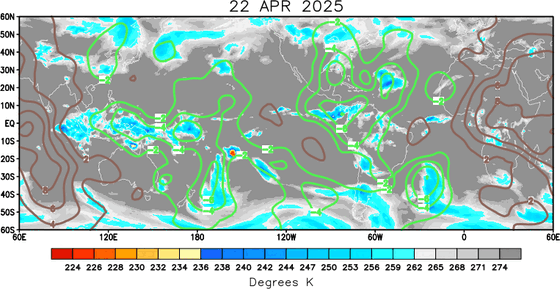 Trackback URL for this blog entry.