Donate $10 or more and receive an ad-free membership...
NOAA Storm Prediction Center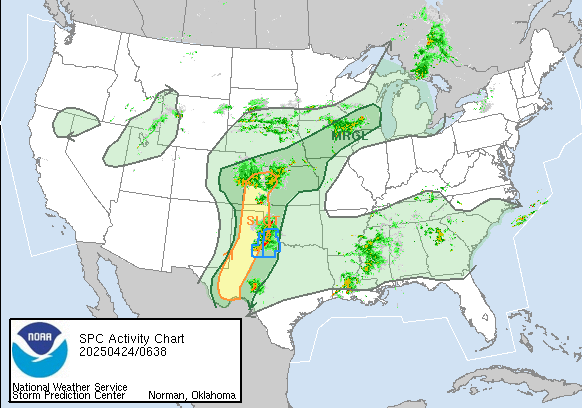 HurricaneJunky is the creator of this website, a weather enthusiast / storm chaser and a Native Floridian who comes from a family of hurricane veterans. One or more of his family members have been thru: The Great Hurricane of 1926, 1928 Okeechobee Hurricane, 1935 Labor Day Hurricane, 1941 Miami Hurricane, 1947 Miami Hurricane 1950 Hurricane King, 1960 Hurricane Donna, 1964 Hurricane Cleo, 1965 Hurricane Betsy, 1979 Hurricane David, 1992 Hurricane Andrew, 2000 Hurricane Gordon, 2004 Hurricane Charley and 2005 Hurricane Wilma. He has experienced (in some way) 1992 Hurricane Andrew, 1985 No-Name Storm, 1993 Super Storm, 2004 Hurricane Charley, 2004 Hurricane Frances, 2004 Hurricane Jeanne, 2005 Hurricane Wilma and 2008 TS Faye. He is an experienced tropical weather tracker and a certified NWS Skywarn storm spotter. A Davis Weather Instruments Vantage Pro2 6152 records the weather conditions occurring outside his home.
Stormchaser81 is a very talented member of the Xtreme Weather Team whose areas of expertise include Doppler radar, satellite interpretation, severe weather warnings, and tropical weather forecasting.

Levi32
is a future star in the weather world that you may be familiar with from Weather Underground. His forecast and analysis are incredibly good.
Please
CONTACT US
if you'd like to be a featured blogger.
Weather Underground RSS Feed for JeffMasters's Blog
Tornadoes Slam 5-State Area, Killing Two; Outbreak Continues Today

The Midwest U.S. is under the gun again today, as a potent storm system that spawned a preliminary count of 24 tornadoes in five states on Sunday reloads and prepares to dish out another afternoon and evening of atmospheric mayhem. Sunday's tornadoes swept through Oklahoma, Kansas, Iowa, Missouri, and Illinois, with Oklahoma bearing the brunt of the assault. The outbreak's only deadly tornado hit Shawnee, Oklahoma, a town of 30,000...

U.S. has its 23rd coolest April; 16 tornadoes confirmed from Texas outbreak

It was an unusually cool April over much of the U.S. during April 2013, said NOAA's National Climatic Data Center (NCDC) in their latest State of the Climate report. It was the coolest April since 1997, and ranked as the 23rd coolest April in the 119-year record for the contiguous U.S., putting the month in the coldest 20% of all Aprils on record. North Dakota had its coldest April on...