Ophelia dead but may come back to life; Reasons to still watch the Caribbean
Please note that these tidbits do NOT reflect the official forecasts of the National Hurricane Center, and should not be taken as such. While tropical cyclones exist in the Atlantic, the official NHC forecasts will be posted in the lower part of this blog. Please refer to those when making decisions, and heed the advisories and evacuation statements of your local National Weather Service Office.
If you can, playing the video in HD makes it much easier to see things. The video will play in low quality by default. If HD quality isn't available, then it will be in a few minutes. Let me know if you have problems with the video, and please feel free to ask me any questions regarding what I talk about in these tidbits, or about the weather in general. You can post in either of my blogs or on Youtube. I will do my best to answer. Thanks for stopping by!
Find me on Youtube Find me on Facebook (also on Twitter)

Ophelia was finally downgraded yesterday, after probably being unworthy of a name for over a day before that. Her old center scooted off to the west and is now northwest of Puerto Rico. A new surface center is trying to develop just west of the convective mess, which is home to her mid-level center. She will probably try to redevelop into a tropical cyclone at some point over the next few days as the upper low to her northwest that has been shearing her backs away, relaxing the shear a little bit. She will be recurving east of the United States, but possibly close enough to Bermuda to impact them, and thus they should keep an eye on her. She shouldn't be that strong of a storm either way.
Philippe is also curving out to sea into a large trough in the eastern Atlantic.
At the risk of sounding like a broken record, the Caribbean still needs to be watched during the next couple of weeks. One has to be humbled once in a while by the unpredictability of the timing of things like the MJO, which is what we are waiting on. The GFS and UKMET were way too fast in bringing the MJO to phase 8 at the beginning of this month, and the ECMWF had the better idea of being slower, though it was wrong about plunging the MJO deep into octants 4 and 5. Overall it is a hybrid of the ECMWF's slowness and my idea that the MJO will eventually come back to the Atlantic for October. Once it finally does, then I think we will see the Caribbean turn very wet.
I show in the video today how the CPC analogs for Day 11 are full of storms from the package that I outlined over a week ago in relation to this overall pattern. This kind of setup has spawned storms before, and it could do it again.
We shall see what happens!
Tropical Atlantic Visible/IR2 Satellite (click image for loop):


Atlantic Tropical Surface Analysis:


200mb Vertical Velocity Potential (green areas represent upward motion associated with the MJO):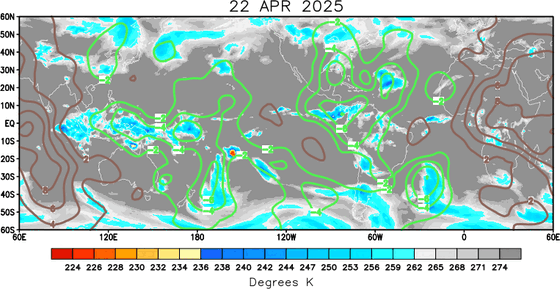 Trackback URL for this blog entry.