Ophelia forms; Still concerned about the western Caribbean for early October
Please note that these tidbits do NOT reflect the official forecasts of the National Hurricane Center, and should not be taken as such. While tropical cyclones exist in the Atlantic, the official NHC forecasts will be posted in the lower part of this blog. Please refer to those when making decisions, and heed the advisories and evacuation statements of your local National Weather Service Office.

If you can, playing the video in HD makes it much easier to see things. The video will play in low quality by default. If HD quality isn't available, then it will be in a few minutes. Let me know if you have problems with the video, and please feel free to ask me any questions regarding what I talk about in these tidbits, or about the weather in general. You can post in either of my blogs or on Youtube. I will do my best to answer. Thanks for stopping by!

Find me on Youtube Find me on Facebook (also on Twitter)



Tropical Storm Ophelia has developed in the central Atlantic. Although she now has a well-defined surface circulation, she is already sheared, with an exposed center west of the main cluster of thunderstorms. This will likely be how Ophelia looks for most of her life. She will likely pass over the northern-most Leeward Antilles islands and then north of the greater Antilles, eventually recurving or being absorbed into a frontal boundary off of the eastern United States, no threat to the eastern seaboard. While not likely to be a significant wind event, the back side of Ophelia could bring heavy rains to Puerto Rico again, which would be devastating. Even if Ophelia passes well north of PR, trailing spiral bands coming around the back side could bring rain to the islands even as the storm center is a few hundred miles to the northwest.

Looking ahead...I feel like I'm beating a dead horse, but there is still concern for tropical mischief in the western Caribbean in the 10-15 day period as the MJO finally comes back to the Atlantic. This factor is what we're probably waiting on now, as the Caribbean has not shown any signs of wanting to light up without the upward air motion that the MJO provides. Even the ECMWF is now coming around to the idea that the MJO will come back to the Caribbean within 15 days, after stubbornly suggesting otherwise, but we knew that eventually it would have to come around. Renewed upward motion, combined with high pressure over the eastern U.S., is a recipe for late-season fun and games in the western Caribbean that could result in a storm that tries to find its way northeast towards the eastern gulf or Bahamas.

We shall see what happens!

Official NHC Forecast for Tropical Storm Ophelia:




Tropical Atlantic Visible/IR2 Satellite (click image for loop):




Atlantic Tropical Surface Analysis:




200mb Vertical Velocity Potential (green areas represent upward motion associated with the MJO):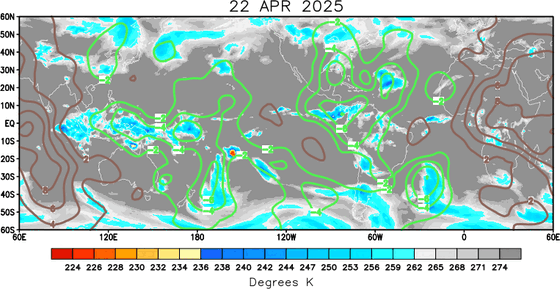 Trackback URL for this blog entry.