Donate $10 or more and receive an ad-free membership...

Ran across this video it is from the Mexico touch down of the tornado in Tlateloco June first about 6 oclock  ...
5 years ago, on this date, an EF3 tornado tore through my county, causing major damage.

The tornado destroyed at least 64 homes and damaged at least 70 more along the US 150 corridor in Washington, Cannelburg and Loogootee. Up to 200 employees were trapped at K&K Industries in Montgomery, but they were all accounted for.

The path of the tornado was 12 miles ling, and it was 3/4 mile wide in some spots. Surprisingly, no one was critically injured or killed from this tornado.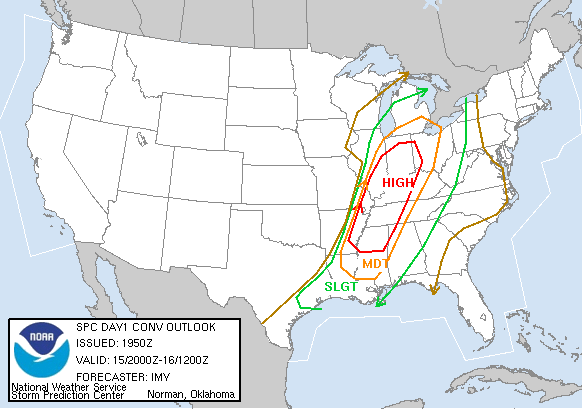 Stormchaser81 is a very talented member of the Xtreme Weather Team whose areas of expertise include Doppler radar, satellite interpretation, severe weather warnings, and tropical weather forecasting.

Levi32
is a future star in the weather world that you may be familiar with from Weather Underground. His forecast and analysis are incredibly good.
Please
CONTACT US
if you'd like to be a featured blogger.
Weather Underground RSS Feed for JeffMasters's Blog
U.S. has its 23rd coolest April; 16 tornadoes confirmed from Texas outbreak

It was an unusually cool April over much of the U.S. during April 2013, said NOAA's National Climatic Data Center (NCDC) in their latest State of the Climate report. It was the coolest April since 1997, and ranked as the 23rd coolest April in the 119-year record for the contiguous U.S., putting the month in the coldest 20% of all Aprils on record. North Dakota had its coldest April on...

Study: 97% Agreement on Manmade Global Warming



The scientific agreement that climate change is happening, and that it's caused by human activity, is significant and growing, according to a new study published Thursday. The research, which is the most comprehensive analysis of climate research to date, found that 97.1% of the studies published between 1991 to 2011 that expressed a position on manmade climate change agreed that it was happening, and that it was due...