Tropical Storm Arlene forms, will make landfall tomorrow morning
If you can, playing the video in HD makes it much easier to see things. The video will play in low quality by default. If HD quality isn't available, then it will be in a few minutes. Let me know if you have problems or questions about the video. Please feel free to ask me any questions regarding what I talk about in the video, or about the weather in general. You can post in either of my blogs or on Youtube. I will do my best to answer.

Find us on Youtube Find us on Facebook



The 2011 Atlantic hurricane season can be officially welcomed in, as Tropical Storm Arlene has formed in the Bay of Campeche. She was upgraded yesterday, skipping TD status, a bit sooner than I thought, but she did get upgraded as expected. Arlene struggled with little convection through last night, but this morning has begun firing lots of deep convection around the center, and is starting to acquire the beginnings of a core structure. The recon is still finding a broad center with the wind maxima well-removed from the center. The low-level center also appears to be slightly displaced southwest of the mid-level center, showing a decoupling that may limit intensification in the near-term. The NHC brings Arlene up to 50kts (60mph) before landfall, which is certainly possible if the system can tighten up a little bit in the 18-24 hours it has before landfall. The recon shows the central pressure is down to 1000mb. The upcoming 10am CDT advisory may not upgrade the winds from 40mph based on recon data, but later today Arlene may be up to 50mph. The upper-level environment, as advertised, has become a lot more favorable for intensification since yesterday, although there is still a little bit of dry air to the northwest of the storm. The main issue with Arlene will be rainfall, as despite the fact that Mexico really needs the rain, too much of it too fast can still cause problems for folks. A 60mph tropical storm can also cause issues with wind along the coastline. Arlene will be coming into the Mexican coast just south of Tampico sometime tomorrow morning. Refer to the National Hurricane Center for the latest advisory information for your area.

Elsewhere...The GFS, UKMET, and most of the other model sets are showing a strong MJO pulse remaining over the Atlantic through the next two weeks. The first 10 days of July are likely to remain active in the tropics, and we may have to watch for further opportunities for tropical development in either the Caribbean or Gulf of Mexico. A progressive pattern of upper ridges and lows marching east to west will provide pockets of favorable conditions for development, and we will be following these pockets as they travel across the basin. More to come on that after Arlene clears out.

We shall see what happens!

Invest 95L Visible/IR2 Satellite (click image for loop):




Invest 95L Model Tracks:




Caribbean/East Pacific Visible/IR2 Satellite (click image for loop):




Central Atlantic Visible/IR2 Satellite (click image for loop):




Atlantic Tropical Surface Analysis:




200mb Vertical Velocity (green areas represent upward motion associated with the MJO):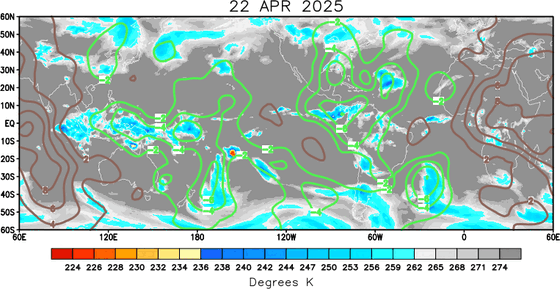 Trackback URL for this blog entry.